GOA Endorses Tom Bassett for State Senate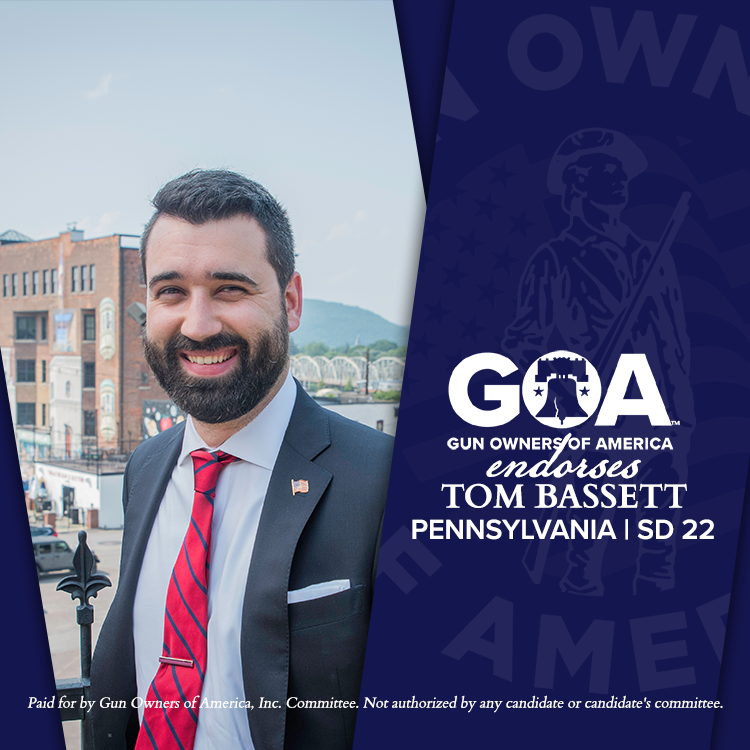 ---
Last day to register or update voter registration, October 24, 2022.
Last day to apply for a mail-in or civilian absentee ballot, November 1, 2022. Voted mail-in or absentee ballots must be received by your county election board by 8 pm on November 8th.
---
Tom Bassett is the Gun Owners' Choice Candidate for Senate District 22
I am delighted to endorse Tom Bassett for State Senate in PA Senate District 22.
Tom is facing off against the anti-gun Democrat incumbent, Marty Flynn.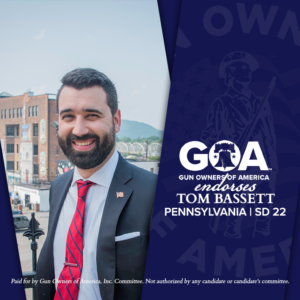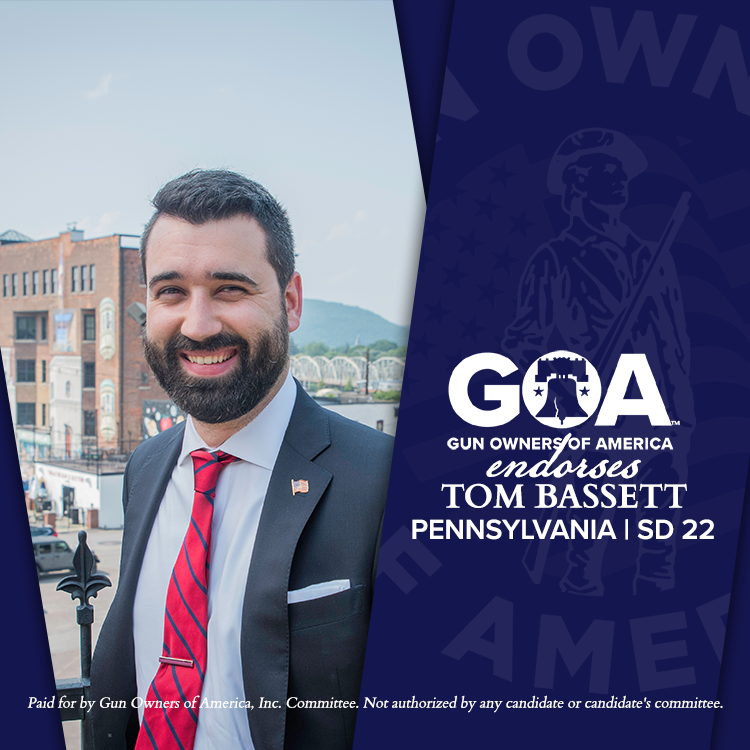 Not only did Marty Flynn vote against Constitutional Carry, but he voted in favor of procedural motions that would have allowed Red Flag Gun Confiscation Orders, mandatory waiting periods, and mandatory firearms licensing to come up for a vote.
Marty Flynn is anti-gun and must go!
Fortunately, gun owners have a great candidate in Tom Bassett.
Tom is a lifelong resident of Luzerne County who has achieved great things through hard work. He rose from cashier to assistant manager at Walgreens until he heeded a call to be a music educator. Tom went on to get his Masters in Music Education at Kutztown University and he currently teaches in the Dallas School District.
Tom earned GOA's support because of his high marks during our rigorous Candidate Endorsement process and where he earned a 100% score on our 2022 gun rights candidate survey.
As a schoolteacher, Tom is also in favor of arming school employees to protect our children from mass murder. 
I interviewed Tom and can tell you that he's behind your Article 1, Section 21 rights all the way. Here's what he has to say in his own words:
Our right to bear arms shall not be infringed (U.S. Constitution) nor questioned (PA Constitution).  These rights are essential for self defense and autonomy from the government. We must take care to create laws that promote public safety and responsibility while not questioning whatsoever our right to bear arms.
As you can see, Tom gets it when it comes to your God-given rights.
For all of these reasons, Gun Owners of America is endorsing Tom Bassett for State Senate in District 22.
So, in the November 8th general election, vote for Tom Bassett and be sure to support his campaign.
Paid for by Gun Owners of America, Inc. Committee. Not authorized by any candidate or candidate's committee.
Recent GOA News & Updates