GOA Endorses Rep. Greg Rothman for State Senate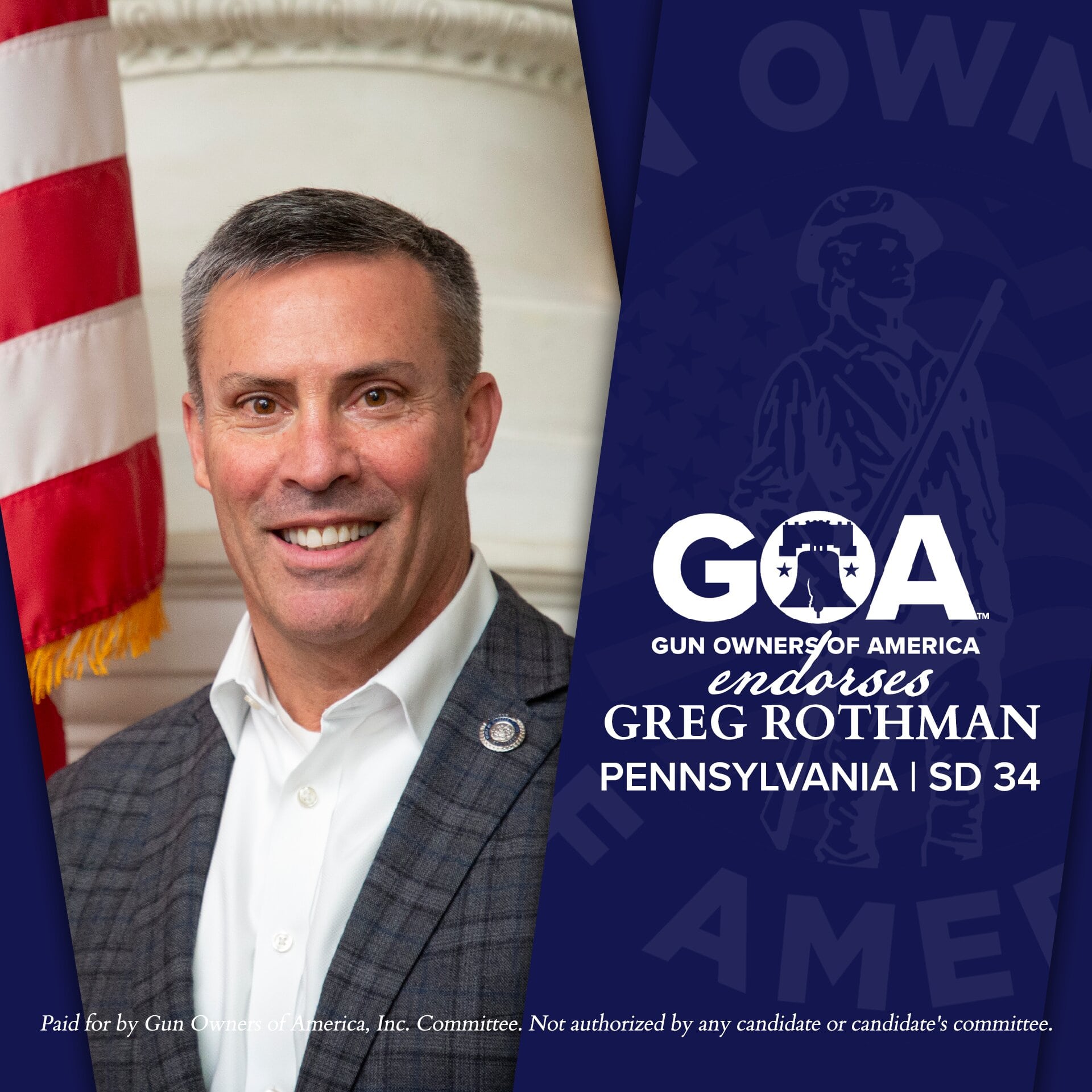 ---
Last day to register or update voter registration, May 2, 2022
Last day to apply for a mail-in or civilian absentee ballot, May 10, 2022. Voted mail-in or absentee ballots must be received by your county election board by 8 pm on May 17th.
---
Greg Rothman is the Gun Owners' Choice Candidate for PA Senate District 34.
I am delighted to endorse Representative Greg Rothman for State Senate in District 34.
Representative Rothman, once again, earned an "A" rating from GOA for his leadership in the legislature, including being a key co-sponsor on Constitutional Carry and strengthening firearms preemption bills.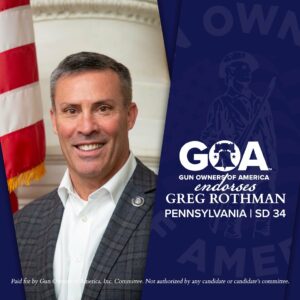 He has a 100% pro-gun voting record and scored perfectly on his 2022 GOA legislative candidate survey.
Representative Rothman has been in the pro-gun movement for 36 years. In 1986 and 1987, he launched his career as special assistant to the General Counsel to the United States Senate Steering Committee (who is currently Legislative Counsel for Gun Owners of America).
He has been a strong ally of GOA and Pennsylvania gun owners ever since his election to the Pennsylvania House in 2015 and will be a strategic asset for your constitutionally-protected rights in the PA Senate.
Representative Rothman is an achiever. In less than five years in the House, Greg has become Deputy Whip (2019-2020) and Chairman of the House Republican Campaign Committee — while remaining a "go-to" guy for defending the Second Amendment.
When asked, here is what Rep. Rothman had to say about your God-Given rights:
The Second Amendment of the US Constitution and Article 21 of the Pennsylvania are vital to protecting the life, liberty and property of all Pennsylvanians.  I will never waiver in my support of your right to defend and protect yourself and family.
So, knowing all of this, I was thrilled to learn that Representative Greg Rothman is running for state senate. I know he'll be an even more effective legislator in the upper chamber.
So, in the May 17, 2022 Republican Primary, vote for GOA-endorsed Greg Rothman for state senate and be sure to support his campaign!
Paid for by Gun Owners of America, Inc. Committee. Not authorized by any candidate or candidate's committee.
Recent GOA News & Updates