GOA Endorses Jim Struzzi for State Representative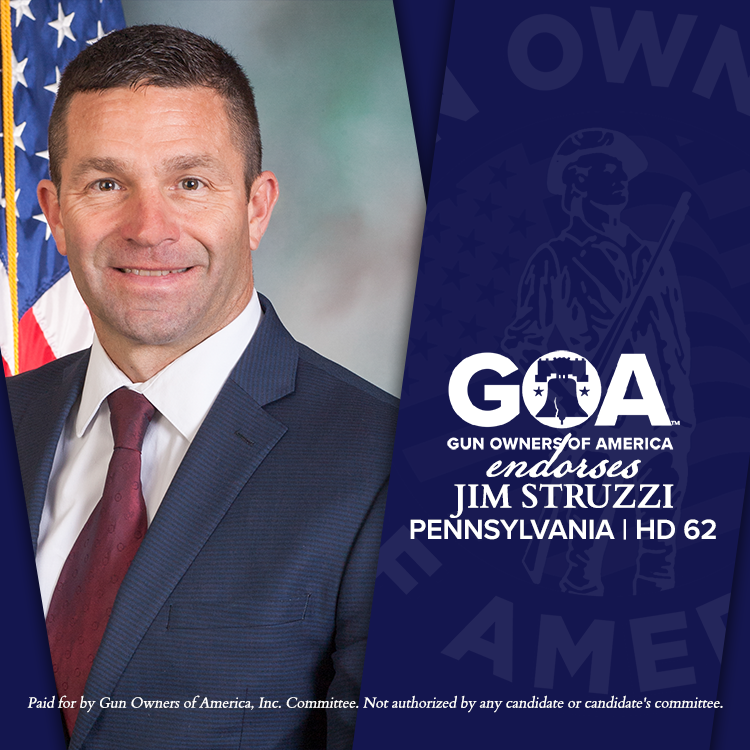 ---
Last day to register or update voter registration, October 24, 2022.
Last day to apply for a mail-in or civilian absentee ballot, November 1, 2022. Voted mail-in or absentee ballots must be received by your county election board by 8 pm on November 8th.
---
Jim Struzzi is the Gun Owners' Choice Candidate for House District 62
I am delighted to endorse Rep. Jim Struzzi for State Representative in PA House District 62.
GOA has been working with Representative Jim Struzzi since he was first elected as a State Representative in 2019 and his track record is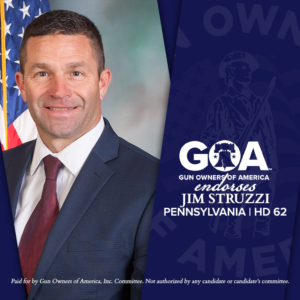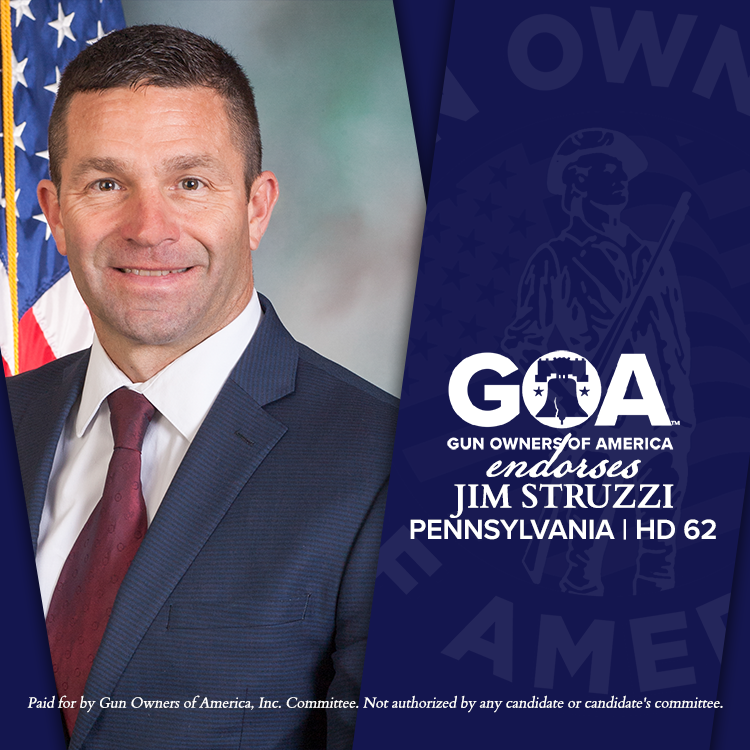 impeccable to date.
Representative Struzzi has a 100% pro-gun voting record in the Pennsylvania General Assembly and was a co-sponsor of GOA-endorsed legislation, including Constitutional Carry (HB 659) and a bill to strengthen Pennsylvania's firearms preemption law (HB 979) among other pro-gun bills.
Representative Struzzi also appeared at rallies in Indiana County in support of our Article 1, Section 21, and Second Amendment rights. He's not afraid to go on record and speak publicly about the importance of firearms for the preservation of liberty.
Here is what Rep. Struzzi has to say in his own words about your constitutionally-protected rights:
The Second Amendment is our fundamental right as Americans to protect and defend our freedoms. As a proud hunter and gun owner, I am teaching my children to respect our rights, our country, and appreciate those who have fought and sacrificed to make our nation great.
Rep. Struzzi earned GOA's support because of his high marks and our rigorous candidate endorsement process. That's why GOA is endorsing Rep. Jim Struzzi for State Representative in House District 62.
So, in the November 8th general election, vote for Jim Struzzi and be sure to support his campaign.
Paid for by Gun Owners of America, Inc. Committee. Not authorized by any candidate or candidate's committee
Recent GOA News & Updates