GOA Endorses Caroline Avery for Congress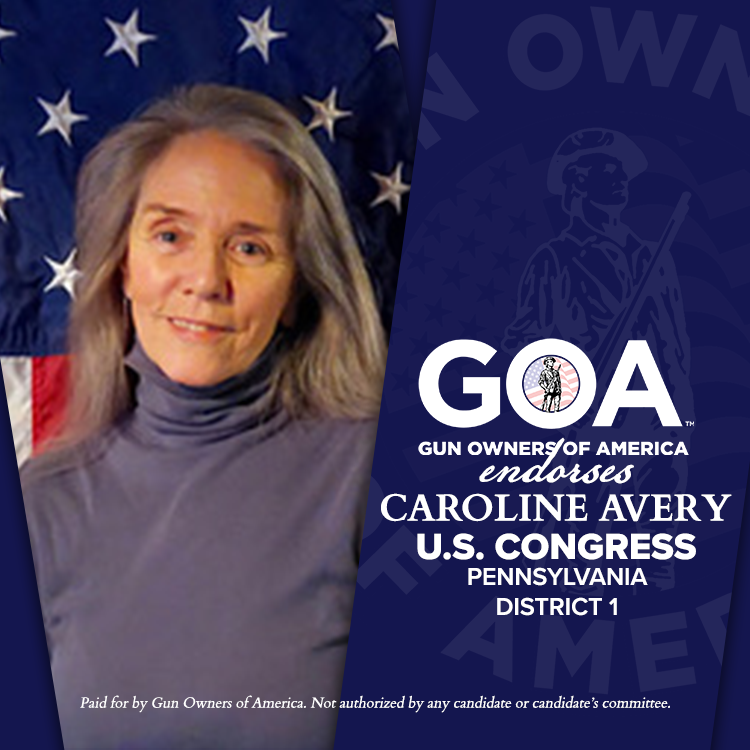 ---
Last day to register or update voter registration, October 24, 2022.
Last day to apply for a mail-in or civilian absentee ballot, November 1, 2022. Voted mail-in or absentee ballots must be received by your county election board by 8 pm on November 8th.
---
Caroline Avery is the Gun Owners Choice for PA's 1st Congressional District
I am proud to endorse Caroline Avery for Congress in Pennsylvania's 1st Congressional District.
Anti-gun Congressman Brian Fitzpatrick continues to violate the constitutionally-protected rights of gun owners. He was one of two Republicans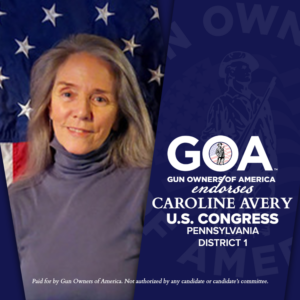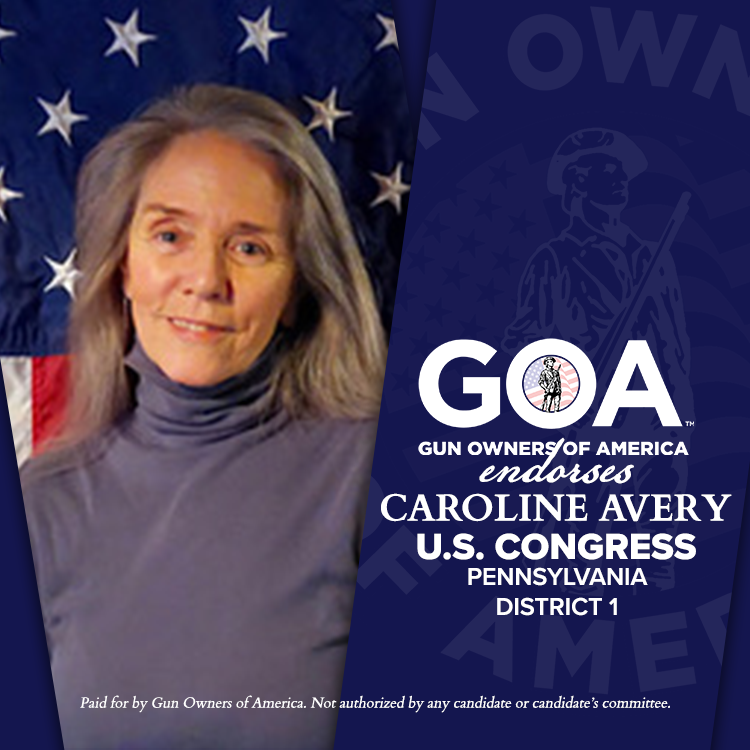 who voted for H.R. 1808, the so-called "assault weapons" ban that would outlaw just about every semi-automatic firearm in circulation.
But Brian Fitzpatrick's offenses don't stop there. Here are a few more:
Sponsored the "Closing the Bump-Stock Loophole Act"
Co-sponsored the "Bipartisan Background Checks Act"
Voted for the "Enhanced Background Checks Act"
So, it's no surprise that the anti-gun Giffords PAC endorsed Fitzpatrick for the 2022 election.
Congressman Fitzpatrick must be defeated in November and Caroline Avery is the person to ensure that Fitzpatrick will never enter the U.S. Capitol again.
Caroline is not a career politician like Brian Fitzpatrick. She's just like you and me. Caroline is a resident of Bucks County and a former business owner in the equine industry. She's also a strong patriot and that's what matters the most.
Caroline decided to challenge Fitzpatrick in the Republican primary and got on the ballot, but Fitzpatrick challenged Caroline Avery's petitions in court and had her thrown off. It was a dirty trick, but what else would we expect from Brian Fitzpatrick?
But Caroline was undeterred. She continued on to secure the Libertarian Party nomination and will still be challenging Fitzpatrick in the general election. How's that for determination?
Caroline earned GOA's support because of her high marks during our rigorous Candidate Endorsement process and where she earned a 100% score on our 2022 gun rights candidate survey.
Here is what Caroline has to say in her own words about your Second Amendment rights:
In a time of skyrocketing lawlessness and crime, the far-left calls for defunding our police and attacks the rights of law-abiding gun owners. As a strong supporter of our Constitution and 2nd Amendment, I won't stand for it, and I'm proud to be endorsed by Gun Owners of America.
First Name, let's show Brian Fitzpatrick and the Republican Party that we will NEVER tolerate a betrayal of our God-given rights. We need to defeat Brian Fitzpatrick once and for all.
So, in the November 8th general election, vote for GOA-endorsed Caroline Avery and be sure to support her campaign.
Paid for by Gun Owners of America. Not authorized by any candidate or candidate's committee
Recent GOA News & Updates