GOA Endorses Ted Tomson for State Representative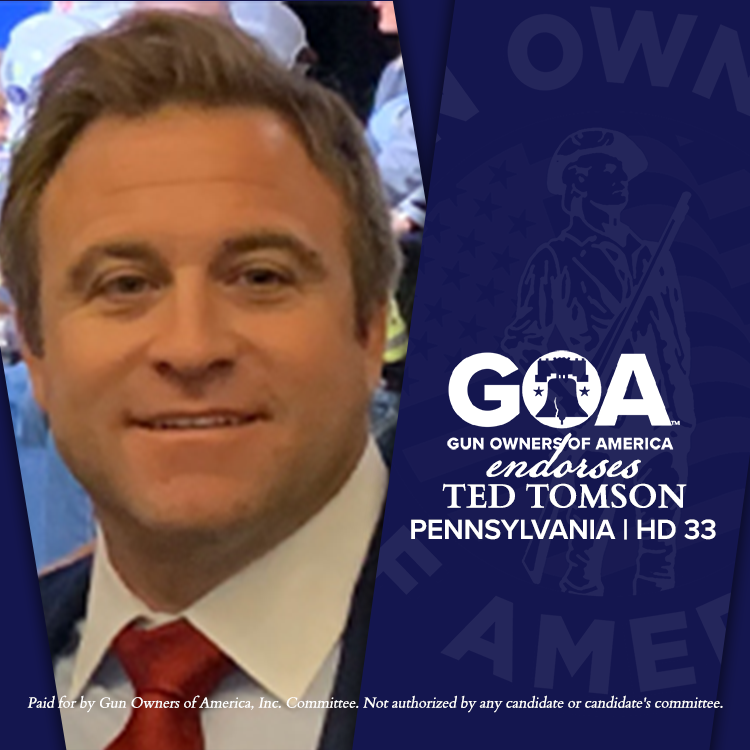 ---
Last day to register or update voter registration, October 24, 2022.
Last day to apply for a mail-in or civilian absentee ballot, November 1, 2022. Voted mail-in or absentee ballots must be received by your county election board by 8 pm on November 8th.
---
Ted Tomson is the Gun Owners' Choice Candidate for PA House District 33
I am delighted to endorse Ted Tomson for State Representative in PA House District 33.
Due to redistricting, an open seat exists for Pennsylvania's new 33rd legislative district. Two candidates have emerged from the primary process, and only one is going to protect and restore your Second Amendment rights.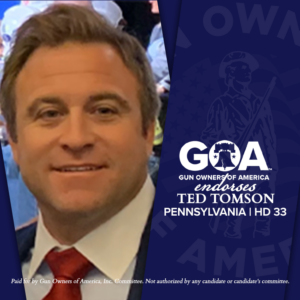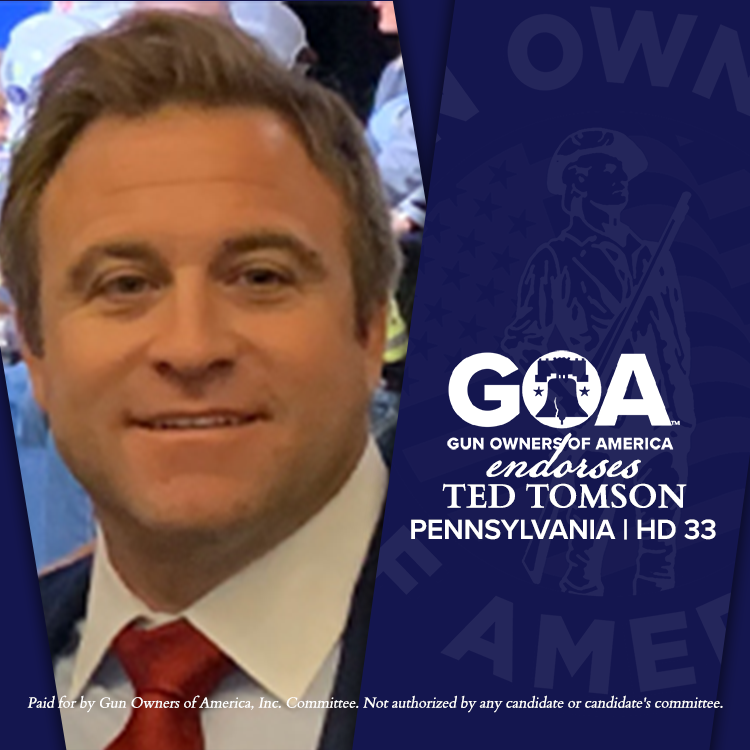 That person is Ted Tomson and he'll be a strong advocate for gun owners in Harrisburg.
Ted is a remarkably productive individual. He graduated from Penn State with a Bachelor of Science in Finance and from Carnegie Mellon University with a Masters in Public Policy and Management.
A lifelong resident of Allegheny County, Ted has resided in Fawn Township for over 20 years. He's a small business owner with his family-run business, Tomson Scrap Metal.
Important for gun owners, Ted is 100% on our side when it comes to our constitutionally protected rights.
Ted earned GOA's support because of his high marks during our rigorous Candidate Endorsement process and where he earned a 100% score on our 2022 gun rights candidate survey.
Here is what Ted Tomson has to say in his own words about your Second Amendment rights:
The Second Amendment is a very important right and we must be resolute in protecting it. I feel it is the beacon that protects all other rights, and the past and current attacks that try to weaken it, if successful, will follow on through and weaken many of our other inalienable rights.
Ted gets to the heart of how the 2A is the linchpin guarantor of our other freedoms, doesn't he?
That's why GOA is endorsing Ted Tomson for State Representative in House District 33.
So, in the November 8th general election, vote for GOA-endorsed Ted Tomson and be sure to support his campaign.
Paid for by Gun Owners of America, Inc. Committee. Not authorized by any candidate or candidate's committee.
Recent GOA News & Updates