GOA Endorses Mike Pendel for State Representative
---
Last day to register or update voter registration, October 24, 2022.
Last day to apply for a mail-in or civilian absentee ballot, November 1, 2022. Voted mail-in or absentee ballots must be received by your county election board by 8 pm on November 8th.
---
Mike Pendel is the Gun Owners' Choice Candidate for House District 45
I am delighted to endorse Mike Pendel for State Representative in PA House District 45.
Mike is running against anti-gun incumbent Democrat, Rep. Anita Kulik. Kulik voted against Constitutional Carry and also voted in favor of procedural motions that would have allowed Philadelphia Democrats to ram their radical, anti-gun agenda down our throats.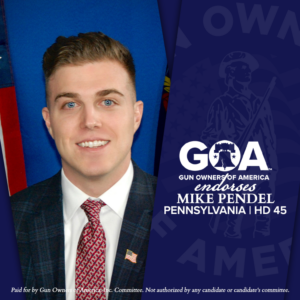 Mike Pendel is the man to change the course of HD 45.
Mike Pendel is from Robinson Township and is fully committed to his home district. He double-majored in Political Science and History at the prestigious Duquesne University. From there, Mike went on to become a successful medical device salesperson. As someone with real-world experience, he'll represent the hard-working people of House District 45 well.
When it comes to our Second Amendment rights, Mike Pendel is a champion in the making. He scored a perfect, 100% on GOA's 2022 candidate survey, which means he'll be committed to advancing a pro-gun agenda and stopping the Philadelphia Democrats from assaulting your freedoms.
I also interviewed Mike personally and he's fully behind our Article 1, Section 21 rights, unlike the incumbent, Anita Kulik.
Here is what Mike has to say in his own words about our God-given rights:
First and foremost, I believe in defending and preserving the structures and principles of our Constitution. Chief among those is the defense of liberty. The 2nd Amendment protects those liberties and allows individuals and families alike to protect themselves against harmful individuals and tyrannical governments. As history has taught us, "Freedoms lost are rarely regained"', governmental action against the 2nd amendment is an overstep poised at furthering governmental control over our personal sovereignty.
I couldn't have said it better myself.
For all of these reasons, Gun Owners of America is endorsing Mike Pendel for State Representative in House District 45.
So, in the November 8th general election, vote for Mike Pendel and be sure to support his campaign.
Paid for by Gun Owners of America, Inc. Committee. Not authorized by any candidate or candidate's committee.
Recent GOA News & Updates