GOA Endorses Joanne Stehr for State Representative
---
Last day to register or update voter registration, May 2, 2022
Last day to apply for a mail-in or civilian absentee ballot, May 10, 2022. Voted mail-in or absentee ballots must be received by your county election board by 8 pm on May 17th.
---
Joanne Stehr is the Gun Owners' Choice Candidate for State Representative in HD 107
I am delighted to endorse Joanne Stehr for State Representative in Pennsylvania's 107th House District.
State Representative Kurt Masser is retiring, leaving an open seat in the 107th district. So, it is important that gun owners elect a strong, pro-gun candidate during the Republican primary to replace him.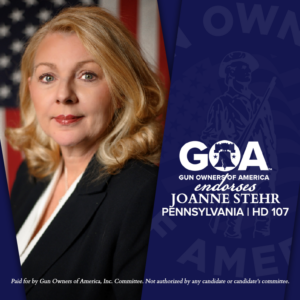 Joanne was a hard-working, home health nurse for 30 years. She also chaired the Hegins Zoning and Planning Committee, so she's no stranger to politics.
Joanne Stehr is that person!
Important for gun owners, Joanne is an ardent supporter of your Second Amendment rights. She scored 100% on her 2022 GOA candidate survey. After interviewing Joanne, I can tell you that her passion and dedication to your God-given rights are unmatched.
And her primary challenger didn't bother to answer GOA's survey, which is usually not a good sign.
Here is what Joanne has to say in her own words about your Second Amendment rights:
As a single mother in a rural community, I have always felt that protecting my family is a God-given inalienable right protected by our 2nd amendment. These rights have been under attack from the liberals as well as some Republicans . I stand firm on my "Right to bear arms " and " Shall not be infringed". My campaign stands strong on not giving an inch to any legislation that would impede our rights as law-abiding citizens.
Now that's a powerful statement if there ever was one.
That's why GOA is endorsing Joanne Stehr for State Representative in the 107th House District.
So, be sure to vote for Joanne Stehr in the May 17th Republican primary and be sure to volunteer and support her campaign.
Paid for by Gun Owners of America, Inc. Committee. Not authorized by any candidate or candidate's committee
Recent GOA News & Updates