GOA Endorses Jarrett Coleman for State Senate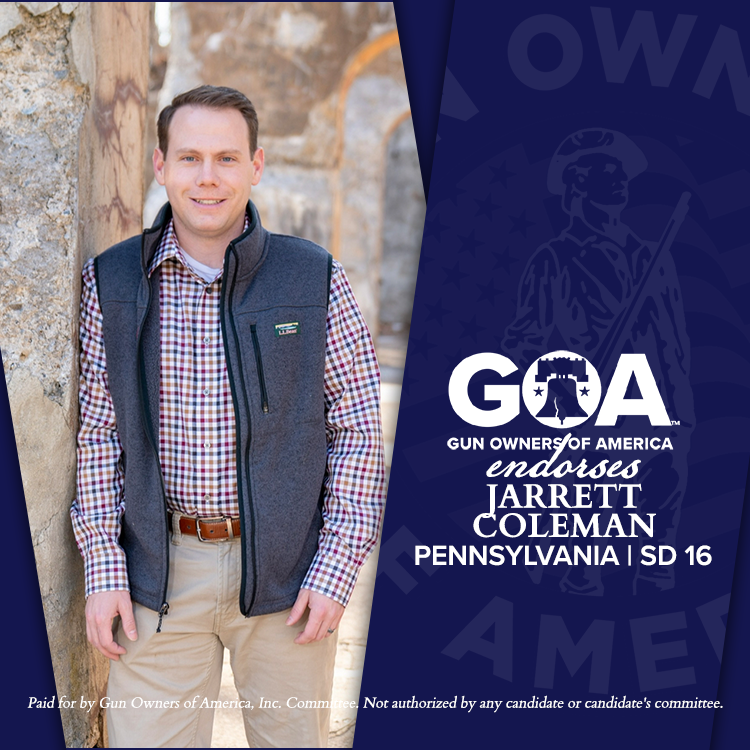 ---
Last day to register or update voter registration, October 24, 2022.
Last day to apply for a mail-in or civilian absentee ballot, November 1, 2022. Voted mail-in or absentee ballots must be received by your county election board by 8 pm on November 8th.
---
Jarrett Coleman is the Gun Owners' Choice Candidate for Senate District 16
I am delighted to endorse Jarrett Coleman for State Senate in PA Senate District 16.
Jarrett Coleman beat incumbent Republican Senator Pat Browne in a tight primary election. In 2018, Browne voted for HB 2060, a bill that expanded gun confiscation orders for those with a final PFA.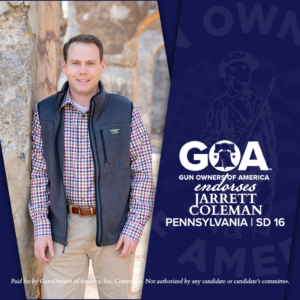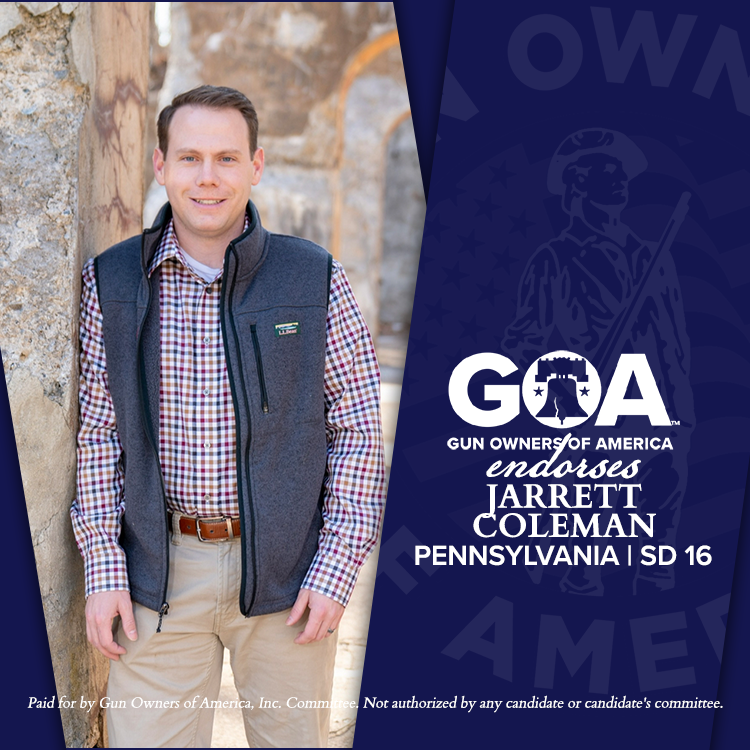 GOA is delighted that Jarrett won this election and I am happy to report that he is a truly "no-compromise" candidate for Pennsylvania gun owners.
Jarrett was born and raised in the Lehigh Valley and is a commercial airline pilot. He is no stranger to politics, having most recently served on the Parkland School Board where he routinely stands up for the rights of students and their parents.
Important for gun owners, Jarrett Coleman scored a perfect, 100% on his 2022 GOA candidate survey.
After interviewing Jarrett, I can tell you that he's 100% with us and will work tirelessly to advance our constitutionally-protected rights. 
Here is what Jarrett has to say in his own words regarding your God-given rights:
The Second Amendment of the US Constitution and Article 1, Section 21 of the Pennsylvania Constitution outline our rights to keep and bear arms. Under no circumstances should our rights be infringed upon.  As your State Senator, I will always do everything in my power to ensure your voice is heard, and your rights are upheld.
As you can see, Jarrett is 100% on our side.
For all of these reasons, Gun Owners of America is endorsing Jarrett Coleman for State Senator in Senate District 16.
So, in the November 8th general election, vote for Jarrett Coleman and be sure to support his campaign.
Paid for by Gun Owners of America, Inc. Committee. Not authorized by any candidate or candidate's committee
Recent GOA News & Updates