GOA Endorses Aaron Bernstine for State Representative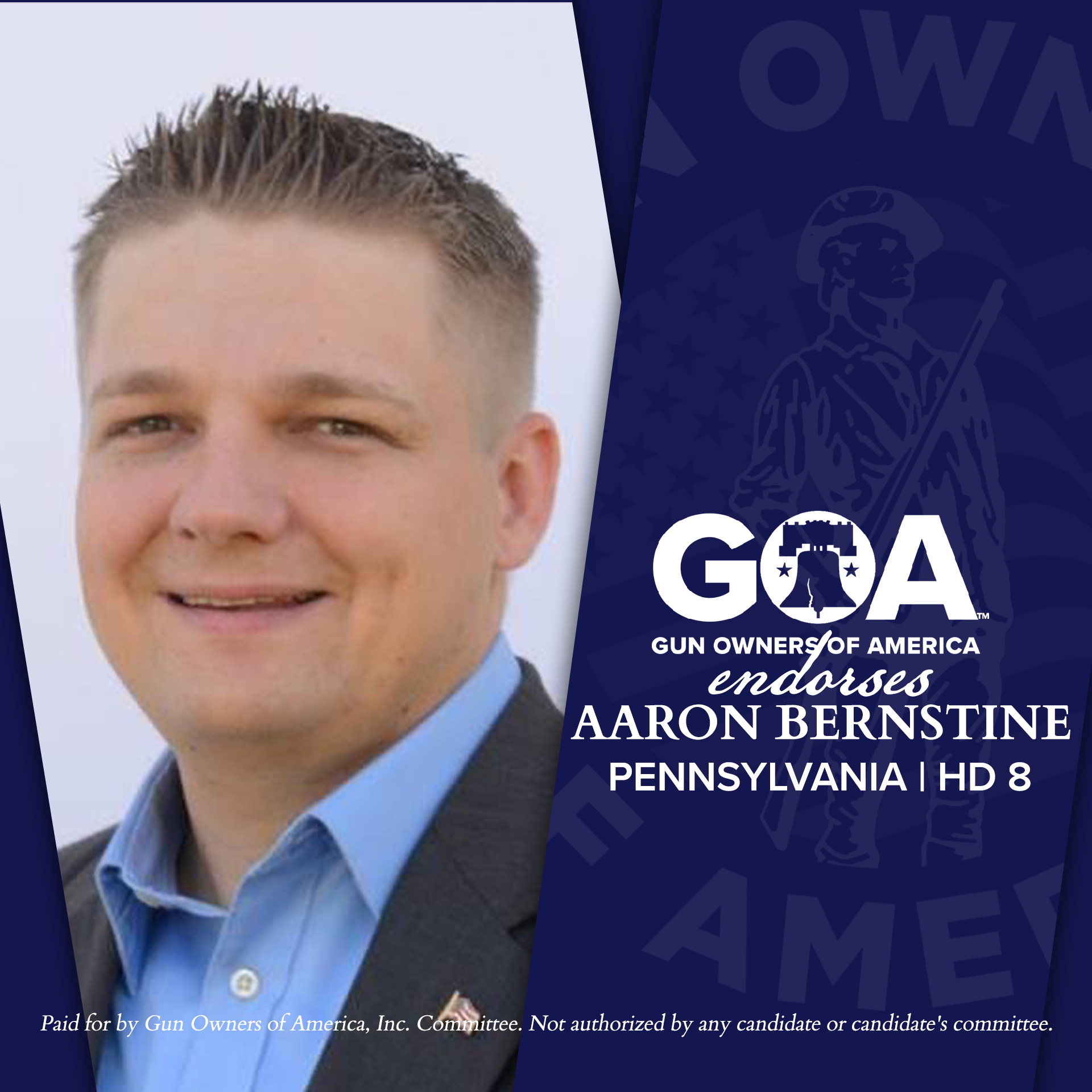 ---
Last day to register or update voter registration, May 2, 2022
Last day to apply for a mail-in or civilian absentee ballot, May 10, 2022. Voted mail-in or absentee ballots must be received by your county election board by 8 pm on May 17th.
---
Aaron Bernstine is the Gun Owners' Choice Candidate for PA House District 8.
I am delighted to once again endorse Representative Aaron Bernstine for State Representative in PA House District 8. Aaron is a true champion for the right to keep and bear arms. He not only talks the talk, but also walks the walk.
It's not easy to get an A+ rating from GOA, but Representative Bernstine earned our highest grade through his exemplary leadership for gun rights across Pennsylvania.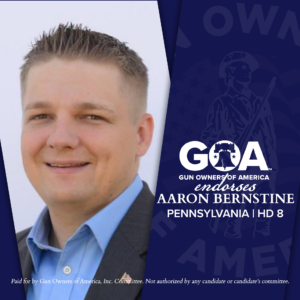 Rep. Bernstine was the prime sponsor of GOA-backed Constitutional Carry legislation for years and his current permitless carry bill (HB 659) was set to pass before Republican leadership blocked it. 
But that didn't deter Representative Bernstine! He continued to support the cause, and after his bill was killed, he got behind the Senate Constitutional Carry bill to champion it all the way to Governor Wolf's desk.
Representative Bernstine didn't care who got the credit. He just wanted Constitutional Carry to pass. Now, what does that say about his sincerity as a true 2A champion?
Here is what Rep. Bernstine has to say in his own words about your Second Amendment rights:
Without the preservation of the 2nd Amendment, our freedoms are gone. It is imperative that we all work together to preserve and expand the rights of law-abiding citizens to defend themselves.
Representative Bernstine also supported the effort to strengthen Pennsylvania's firearms preemption law by co-sponsoring and voting for HB 979 (Dowling-R). 
And let's not forget, Representative Bernstine was one of two state legislators who endorsed GOA's Second Amendment Sanctuary Ordinance (SASO) movement.
Representative Bernstine sets the standard for what all legislators should be when it comes to your constitutionally-protected rights.
That is why Gun Owners of America is backing Aaron Bernstine for Pennsylvania's 8th House District.
So, in the May 17, 2022 Republican primary, vote for GOA-endorsed Aaron Bernstine and be sure to support his campaign.
Paid for by Gun Owners of America, Inc. Committee. Not authorized by any candidate or candidate's committee.
Recent GOA News & Updates