GOA Endorses Anne Weston for State Representative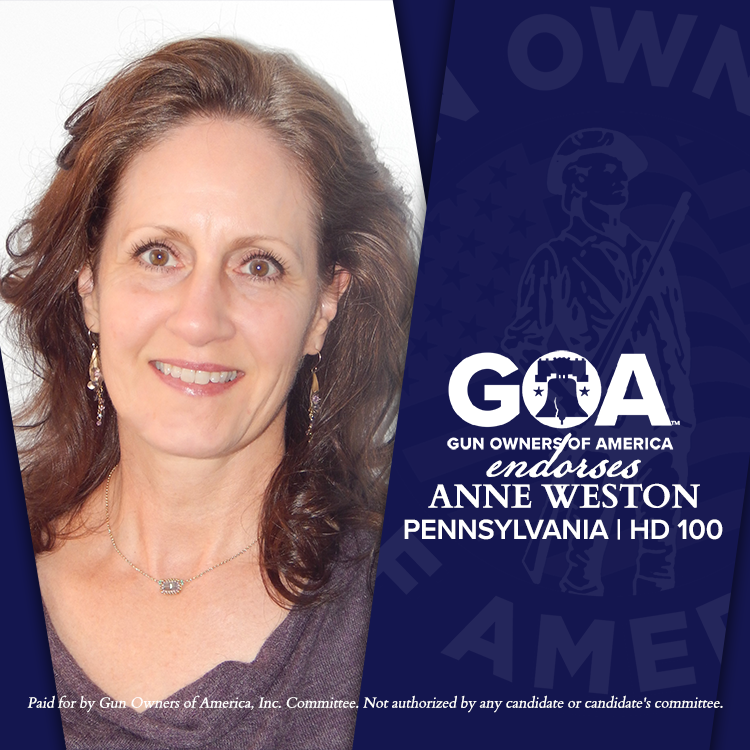 ---
Last day to register or update voter registration, May 2, 2022
Last day to apply for a mail-in or civilian absentee ballot, May 10, 2022. Voted mail-in or absentee ballots must be received by your county election board by 8 pm on May 17th.
---
 Anne Weston is the Gun Owners' Choice Candidate for State Representative in HD 100
am delighted to endorse Anne Weston for State Representative in Pennsylvania's 100th House District.
The current Republican leadership in the Pennsylvania House of Representatives is the number one obstacle to getting pro-gun legislation passed and that's why we must elect Anne Weston to replace Rep. Bryan Cutler.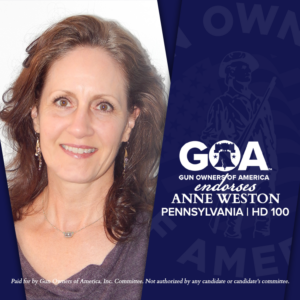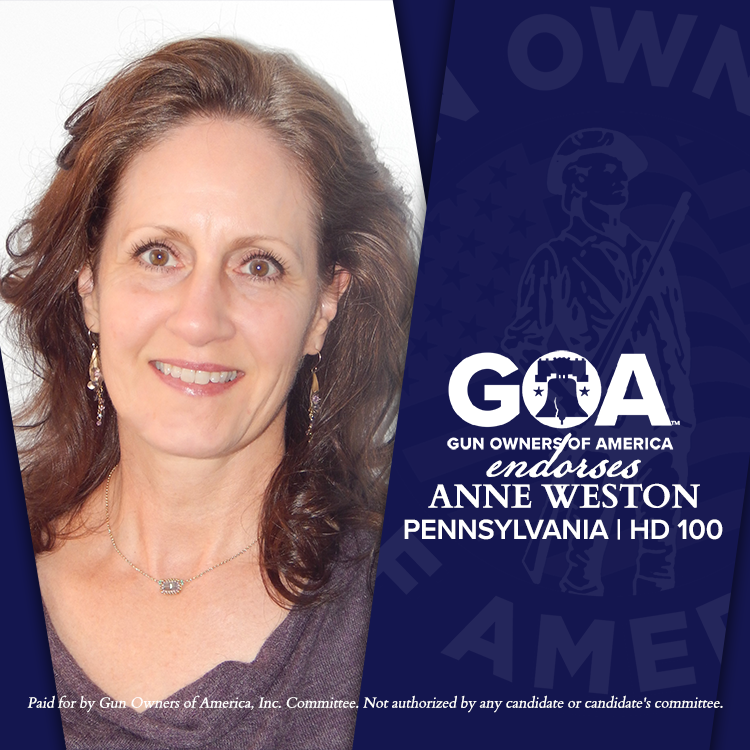 On June 7th, representatives from GOA and other gun rights groups assembled to meet with Speaker Bryan Cutler. We specifically asked Speaker Cutler to ensure that HB 659 was brought up for a vote. In short, Cutler refused to "Speakerize" the bill and instead deferred to the Majority Leader, Kerry Benninghoff.The House Constitutional Carry bill (HB 659) was stalled by Republican leadership in June of 2021, just days after promises were given on the Capitol steps to a group of gun rights activists assembled for a rally.
Just two days later, Benninghoff stalled Constitutional Carry, breaking promises to gun owners just 48 hours prior.
Fortunately, GOA introduced a Senate companion bill championed by Sen. Cris Dush (R-25). It was your efforts that got SB 565 moving in the Senate. At the same time, GOA activists knocked on doors in Kerry Benninghoff's district, letting him know that blocking Constitutional Carry was unacceptable.
In all of this, Speaker Cutler was no assistance whatsoever. In fact, he is best at telling us the reasons why he cannot do things for Pennsylvania gun owners. The only reason he moved the Senate Constitutional Carry and other pro-gun bills was because GOA members and supporters like YOU pressured him to do so.
And Bryan Cutler's voting record is far from perfect. In 2018, he voted for HB 2060, an anti-gun bill which became law. 
HB 2060 expanded the loss of gun rights by "mandating" the relinquishment of ALL firearms, other weapons and all ammunition when a "permanent" protection from abuse (PFA) order is issued "WITHIN" 24 hours or face prosecution.
HB 2060 was vigorously opposed by GOA (you can read our alert about it here). The only reason it passed is because the current Republican leadership wanted it and that's why Culter MUST GO.
GOA-endorsed Anne Weston won't be a squish when it comes to your Second Amendment rights.  Anne gave GOA a 100% pro-gun candidate survey. I interviewed her and she's absolutely furious over Speaker Cutler's ambivalence toward your Second Amendment rights. She's passionate about being a Second Amendment champion, unlike Bryan Cutler. 
Here is what Anne has to say in her own words regarding your God-given rights:
Life, liberty, and the pursuit of happiness are divine personal rights, and their corporate social expression depends on their preservation as firstly individual rights.  History proves our Forefathers correct, that divine rights are always under threat.  The Second Amendment defends them, and our Constitution, ensuring that the right of all to live free cannot be extinguished by corporate overreach.
Val, this is THE opportunity for Southern Lancaster County gun owners to send a message to the GOP that you are not going to tolerate weak leadership in the Pennsylvania General Assembly.
So, vote for Anne Weston in the May 17th Republican primary and be sure to volunteer for and support her campaign.
Paid for by Gun Owners of America, Inc. Committee. Not authorized by any candidate or candidate's committee.
Recent GOA News & Updates